Your Driving Experience, Updated
Relaxing and convenient on long journeys: Audi adaptive cruise control can even be used on busy roads and heavy traffic. The adaptive cruise control maintains a preset distance to the vehicle ahead by automatically accelerating and braking.
Stop & Go
The system keeps the distance to the car in front constant by automatically braking and accelerating. In conjunction with S-tronic or tiptronic, the Stop & Go Function allows independent braking to a standstill and automated restarting at the driver's request. Adaptive cruise control maintains a desired driving speed constantly. The system offers relief to drivers in this way – especially on long trips. At the same time, the constant speed mode of driving contributes towards lower fuel consumption and lower CO2 emissions. The system is operated via a separate steering column stalk, and the preset driving speed is shown in the instrument cluster. The system is deactivated when the driver brakes.
Attention Surplus Is In Order
Video: See Adaptive Cruise Control in action
Audi adaptive cruise control is a "hands-on" system that enhances comfort, particularly on long journeys—by assisting the driver with acceleration and braking plus maintaining speed and following distance—and keeps the car in its lane at highway speeds and during traffic jam situations. A signal is automatically given if the driver's intervention is required to sufficiently brake the vehicle.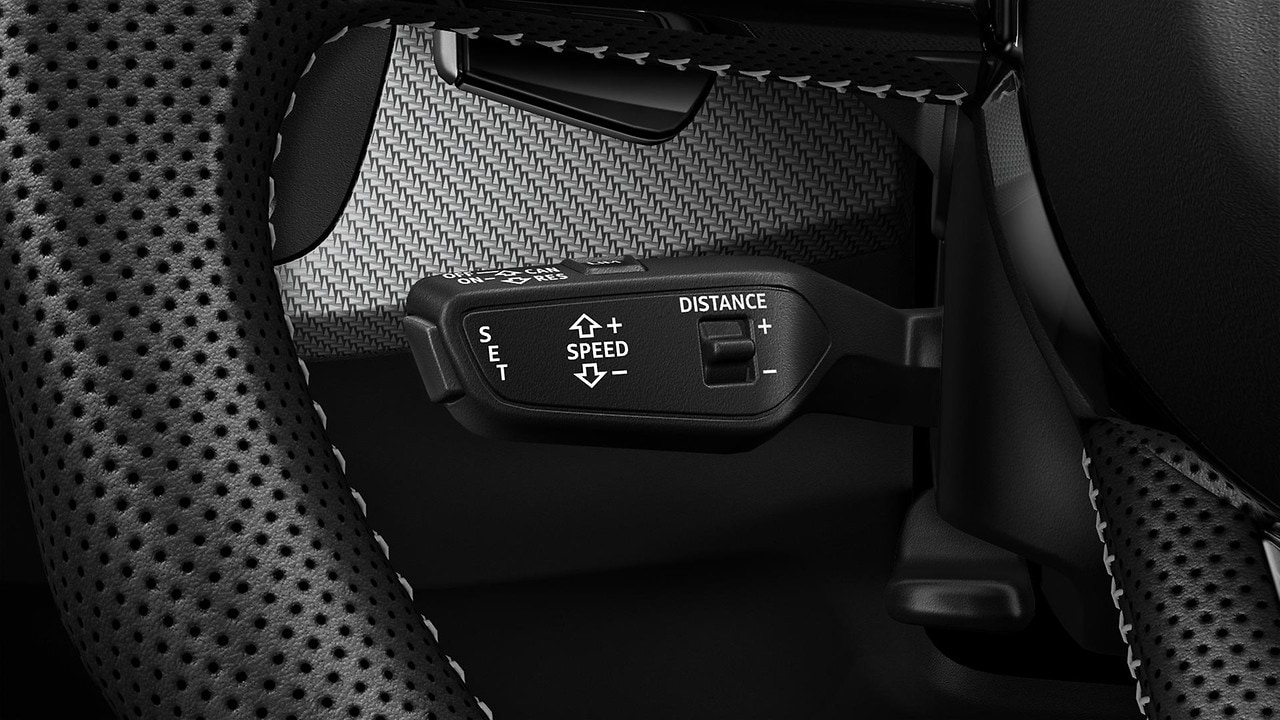 Driver Assistance features are not substitutes for attentive driving. Please see your owner's manual for further details and important limitations.
Video: Traffic Jam Assist
Traffic at a distance. Assistance up close.
Engineered to provide throttle, braking and steering input during congested traffic situations, available Traffic jam assist can help take some of the stress out of your commute. The Traffic jam assist orientates itself by the lane markings and the other vehicles on the road. When the Traffic jam assist reaches its system limits – as when traffic eases up or a narrow curve lies ahead – the person at the wheel must again take over the driving. The system provides assistance by warning the driver in several stages. As a final measure, the system automatically brings the large SUV to a safe stop.
More Relaxed. Even in Traffic
The system uses a special radar sensor to measure the distance to the vehicle ahead and controls the speed, ensuring it does not exceed the set value. In addition, adaptive cruise control automatically maintains a constant distance to the vehicle ahead. The driver can choose between four distance programs (model dependent), adjusting the system's dynamics to suit his or her requirements: the available programs are Distance 1 (sporty), Distance 2 and 3 (standard) and Distance 4 (comfortable).
Even when adaptive cruise control is activated, the driver is still responsible for monitoring the car's speed and the distance from the vehicle in front. The adaptive cruise control does not respond to stationary obstacles or to approaching vehicles.